COMMUNITY EDUCATION PROJECTS
2014 GODLEY STATION SCHOOL'S FUTURE BUSINESS LEADERS ASSOCIATION HOBBY CLUB

In September of 2014, the Coastal Rail Buffs organization was approached by Richard Riley, the FBLA sponsor and Brad Bartucca, a parent volunteer, for guidance and assistance in designing and constructing a "virtual city" representing the Pooler/Savannah area. The Godley Station School's FBLA is the largest FBLA club in the nation and is very ambitious. This will be built as a portable N scale layout with an operational N scale train, buildings ranging from 1/144 to 1/160 scale and a larger building representing Godley Station School. Also represented will be the Georgia Ports with a container ship, Savannah International Airport with planes, and Hunter army airfield with some helicopters. Coastal Rail Buffs member David Lotz has been attending their weekly meetings as our representative. We will announce here the reveal date with photos of the modules.
Module Design
The modules consist of 2' x 2' modules with two larger modules for reversing t he trains. Kato's Uni-Track system was chosen for the trackage on the modules.
(Click on the images below to enlarge them)
Construction Photos (We'll post more images here as we make progress)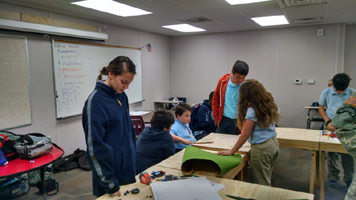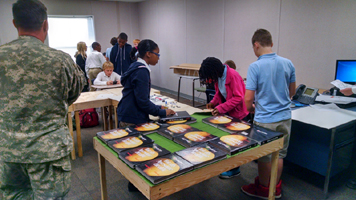 November 19, 2014 - The modules constructed by Mock Plumbing arrived and grass is being laid.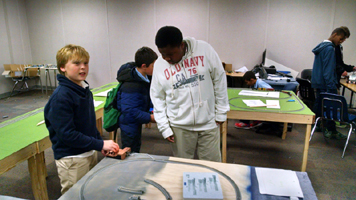 January 7, 2015 - the track and train arrive and are tested.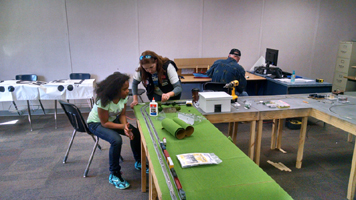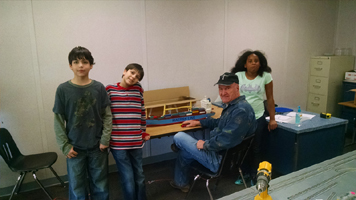 February 21, 2015 - Saturday workday. All tracks laid & train running. Working on the cemetery and container ship.
© 2015 Coastal Rail Buffs